Vandy Vape, a name known for innovation and durability in the vaping world, presents the Vandy Vape Jackaroo 18650 Pod Mod Kit. This rugged and high-performance vaping device is designed to be your companion in all situations. Let's dive into the details.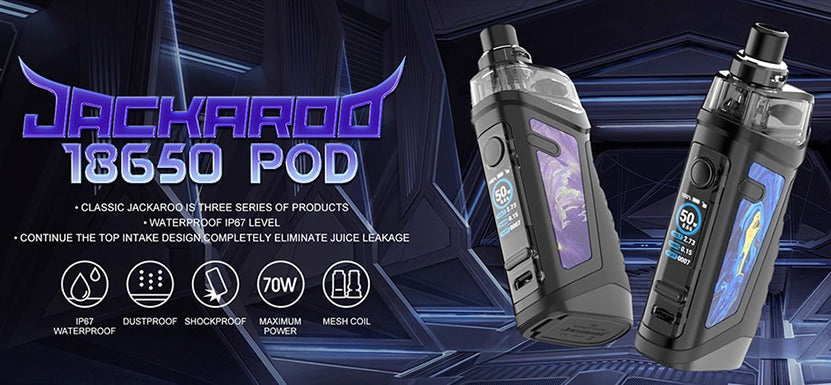 Product Intro
The Vandy Vape Jackaroo 18650 Pod Mod Kit packs a punch with its 4.7ml e-liq capacity and the ability to be powered by a single 18650 battery (not included), delivering a maximum output of 70W. Its top-filling system ensures that you won't have to worry about annoying leakage issues. Moreover, the IP67 waterproof rating adds an extra layer of protection against the elements. This kit is also compatible with Wildcard VVC Coils, providing you with the flexibility to customize your vaping experience.
First Impressions
Comparing the Vandy Vape Jackaroo 18650 Pod Mod Kit with the Geekvape L200 (Aegis Legend 2) Classic Kit, the first thing that struck me was the rugged and utilitarian design of the Jackaroo. While both devices are built for durability, the Jackaroo's design exudes a sense of adventure. The IP67 rating against water, dust, and shocks gives you the confidence to take this kit anywhere.
Features
Battery: Single 18650 Battery (not included)
Material: Aluminum Alloy and PCTG
Operation: Draw-Activated
Pod Capacity: 4.7ml
Pod Connection: Magnetic
Charging: Type-C 5V/2A
Size:45.2*28.25*114.7mm
Output Power:5-70W (RMS)
Device Resistance Range:0.1ohm-3.0ohm (±5%)
Operating Mode:VW
Device Material:Aluminum alloy + PCTG
Mesh Coil:0.15ohm/0.3ohm/0.6ohm/0.9ohm/1.2ohm
Airflow Mode:Top intake
Filling Type:Top filling
Coil Compatible:Vandy Vape VVC Coils
Build Quality and Design
The Jackaroo's construction from durable zinc-alloy with a silica gel coating is a testament to its ruggedness. It feels substantial in the hand, and the ergonomic gun grip profile offers a comfortable hold. The magnetic pod connection ensures a secure fit, and the top airflow system allows for precise control over your vaping experience.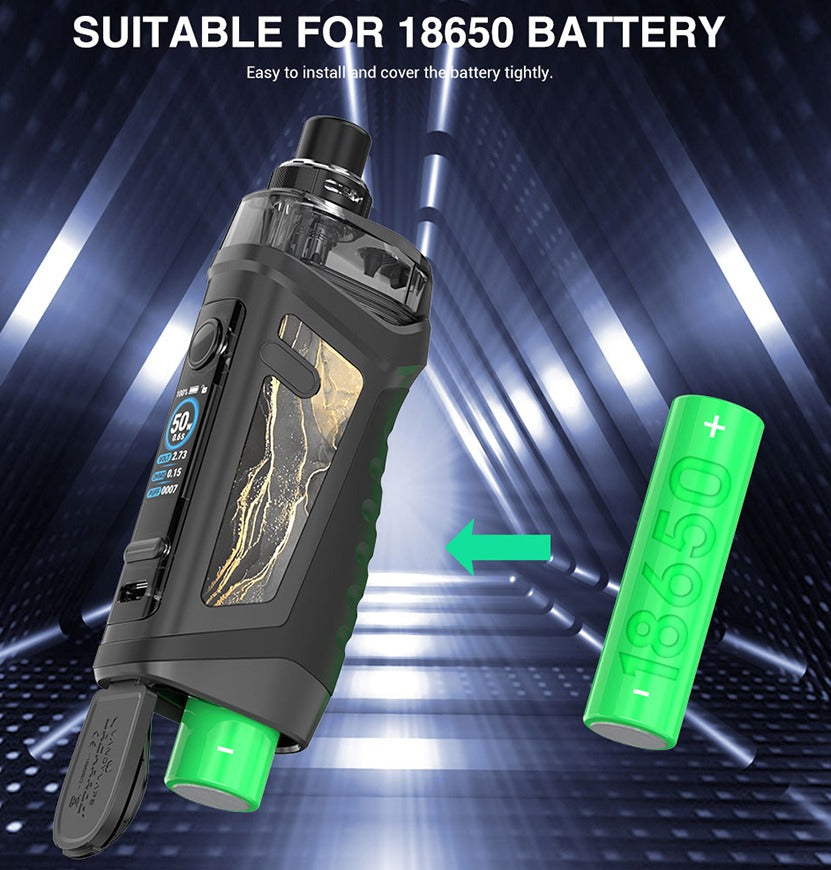 Battery and Charging
The use of a single 18650 battery offers versatility and the potential for extended vaping sessions. However, it's important to note that the battery is not included, so you'll need to source one separately. The Type-C 5V/2A charging ensures quick and convenient recharging, so you won't be waiting long before you're back to vaping.
Durability
The Jackaroo is designed to endure the rigors of an active lifestyle. Its IP67 rating means it can handle being submerged in water, exposure to dust, and accidental drops without missing a beat. This is a device that's built to last.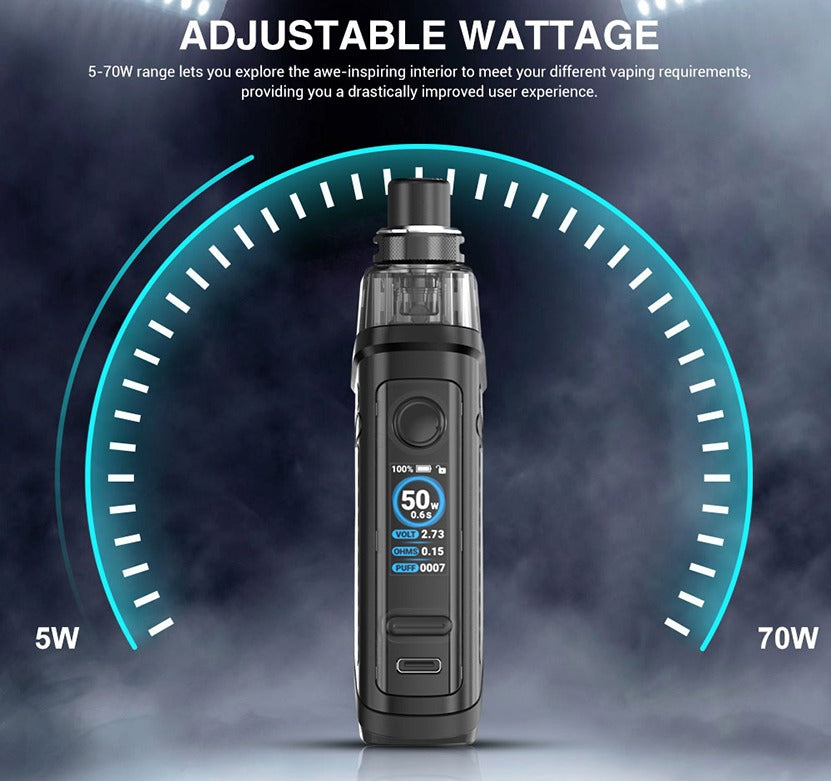 Performance
The draw-activated operation simplifies the vaping process; just take a puff, and you're greeted with robust and flavoful vapor. The 4.7ml pod capacity is ample for extended vaping sessions, and the compatibility with a range of Vandy Vape VVC Coils allows for customization to suit your preferences. The adjustable wattage range of 5-70W enhances user control over the vaping experience.
Pros and Cons
Pros:
Rugged and durable design
IP67 waterproof, dustproof, and shockproof
Single 18650 battery for versatility
Type-C 5V/2A fast charging
Draw-activated operation
Compatibility with Vandy Vape VVC Coils
Ergonomic grip profile
Cons:
Battery not included (requires separate purchase)
Larger and heavier compared to some pod systems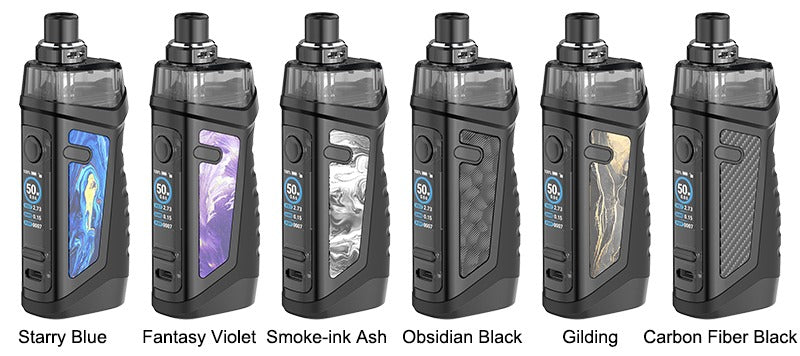 Verdict
In conclusion, the Vandy Vape Jackaroo 18650 Pod Mod Kit is the ideal choice for vapers seeking both durability and outstanding performance. It's a rugged, go-anywhere device that doesn't compromise on style or functionality. The IP67 rating provides peace of mind, knowing that it can withstand the elements, and the versatility of using a single 18650 battery makes it suitable for various vaping needs. If you're an adventurous vaper or simply want a reliable and robust device, the Vandy Vape Jackaroo is a top-notch option that won't disappoint. Vandy Vape continues to deliver innovative vaping solutions, and the Jackaroo is a testament to their commitment to excellence.
Related Kits we recommend:
Geekvape H45 Classic (Aegis Hero 2 Classic) Kit
Geekvape L200 (Aegis Legend 2) Classic Kit
Lost Vape Centaurus Q200 Starter Kit
Geekvape L200 (Aegis Legend 2) Kit
VOOPOO Drag E60 Pod Mod Kit
Shop all Pod Mod Kits